L'Art et la Mode 1903 #49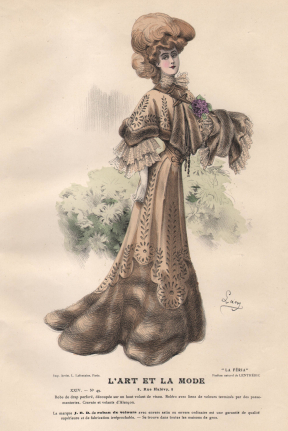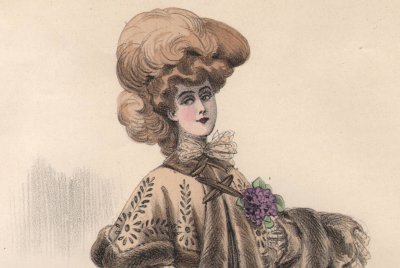 L'Art et la Mode or Art and Fashion was a French magazine. It covered French society news and fashion. It is their beautiful, often hand-colored, fashion plates that the magazine is most-remembered for.
This plate is signed "Lucy" and the credited artist is L. Fontaine and is identified as L'Art et la Mode 1903 N°49 and is a beautiful example of 1903 French fashion. Unfortunately, we've not been able to find anything about this artist. Using Google translate, we learned that the dress is described as a perforated velvet sheet over mink. The bolero hat is make from velvet. The ties and ruffles are Alençon lace. The inscription assured fashionable French ladies of the garment's superior quality and impeccable workmanship and that it could be found in all the wholesale houses.

The over-dress is a blend of a mustard or yellowish brown color that coordinate nicely with the warm brown tones of the mink. Two rows a wide lace create draping cuffs for each sleeve. Alençon is a region in France that was once famous for it's superior lace-makers. Machine made lace would virtually wipe out the Alençon lace industry but it was the Carmelite nuns in Alençon who kept the art alive. In 2010, it was named by UNESCO on its Representative List of the Intangible Cultural Heritage of Humanity.
According to our image editor, both of these images should print at around the 4 by 6 inch size – perfect for large postcards and plenty of detail to use sections of the image.
Part of what I think makes this 1903 French fashion plate so lovely is the detail and level of craftsmanship by the artist Lucy. In this close-up of the model's face and upper body, we see that this fashion image is of a quality that could be considered a portrait.
Under American copyright law, this fashion plate would be in the public domain simply because it was published prior to 1923. We believe that since this fashion illustration was part of a "collective work" (we are assuming a magazine would be classified as such) and was published over 70 years ago that it is most likely considered in the public domain in France as well.
Thank you for visiting Free Vintage Art. Don't forget to Pin your favorite images!