L'Art et la Mode 1903 #37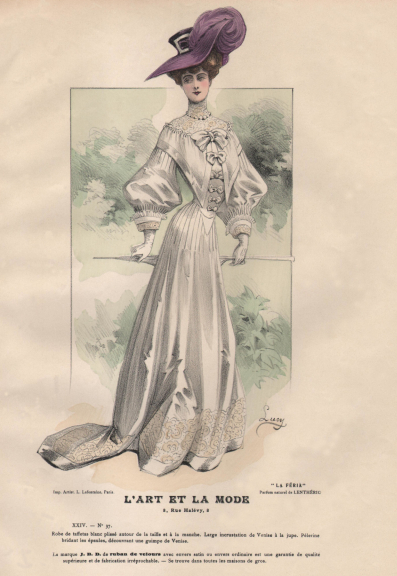 The elusive artist named Lucy is once again responsible for a lovely vintage French fashion plate. I love the way that she puts the model into a landscape rather than alone on a white background. Lucy does seem to favor outdoor settings with greens and yellows.
This time she's drawn a white taffeta gown with pleats at the top of the sleeves and just below the waistline.
It was originally described as having a "large inlay Venice skirt" – maybe someone could explain what that means as I'm not finding a good definition anywhere. It has a short cape with points in front, known as a perlerine. It also appears to have a lace inset collar and bodice made of fine lace and that lace is repeated along the hemline.
Our lovely model is sporting a plum hat with a silver/gray buckle.
Isn't she oh so stylish. It's no wonder these old French fashion images are so highly sought after by collectors. Though, I must admit every time I look at their waistlines, I just cringe at the thought of being so tightly bound just to be fashionable.
I'm also in awe of the workmanship of these garments – remember this was 1903 – sewing machines, the few that were available, were far from the sophisticated, computerized marvels of today. A great deal of these dresses was no doubt hand sewn and even the lace may have been made by hand.
Thank you for visiting Free Vintage Art. Don't forget to Pin your favorite images!