Honeybee Drawing #2
If you liked yesterday's honey bee drawing, I'm fairly certain that you're going to like this one too.
Like yesterday's drawing, this one is from a publication about bees that was put out by the United States Department of Agriculture and the Bureau of Entomology. It was written by D.B. Casteel, Ph.D. in 1912. Dr. Casteel was a professor of Zoology at the University of Texas.
While I am unable tell you if Dr. Casteel wrote any other publications or whether or not he was the Major D.B. Casteel who wrote about a small town in Kansas, I can tell you a little bit about the Bureau of Entomology. First off, if you are like me and didn't know there was a Bureau of Entomology, that is because it was only in existence between 1894 and 1934. By 1924, the Bureau had fields stations in 32 different states and territories along with three foreign countries.
This honey bee drawing shows a bee in flight, carrying a pair of pollen masses. The bee gathers the pollen that accumulates on its legs into a 'mass' to make it easier for transporting – think of a teeny snowball of pollen and you get the idea. I did not know that until I found this great vintage honeybee drawing. Bees are so darn cool. If only they didn't sting, they would be the coolest insects ever. Think about it. They help pollinate flowers and vegetables, gather pollen and turn it into that heavenly nectar – honey.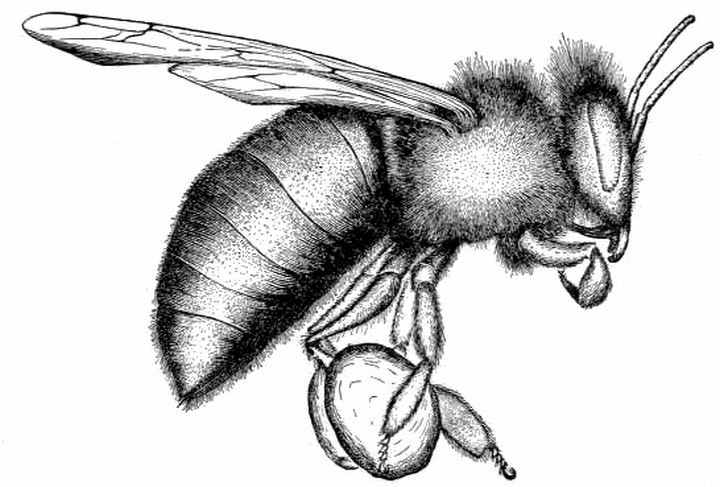 Thank you for visiting Free Vintage Art. Don't forget to Pin your favorite images!