Columbus Day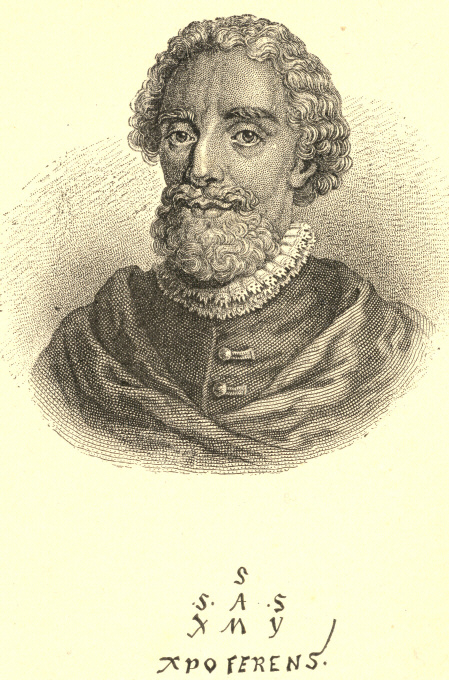 One of the bad things about running a site like Free Vintage Art is that I don't always find great images in a timely fashion. Take today for example. It's 6 p.m. It's Columbus Day. And, I just found a great vintage portrait of Columbus. Obviously too late for anyone to really use for this year but hopefully, it will be here waiting for next year's holiday.
The resolution is crazy large and the image could easily be resized. I wish the background were a less-yellow shade of beige but hopefully you can take care of that on your own.
I hadn't really thought about it before but South America also sets aside one day a year to honor the intrepid explorer who was inspired by the travels of Marco Polo. He was born in 1456 and was therefore 36 years old when he made his historic journey in search of the New World. As we all learned in grade school, Columbus was actually looking for the East Indies when he found the Americas.
Rather than write a history lesson today, I thought I would simply post this portrait done by an unrecognized artist "after a portrait by Herrera". Unfortunately, the history book I found this portrait in does not mention more about the actual artist or which Herrera they used for inspiration. I found three artists name Herrera. Father and son from the 15 and 16 hundreds and an nonagenarian (that means she's over 90), who has taken the art world by storm – or at least she was in 2009, according to a New York Times article.
Carmen Herrera had been painting for 60 years before she sold her first piece in 2004. She was married for 61 years – not sure why the article referred to her as Ms. instead of Mrs. Herrera. Anyway, since 2004, her work has become highly sought after. Her works are included in the permanent collections of the Museum of Modern Art and the Tate Modern.
Both Columbus and Ms. Herrera could perhaps remind us that life doesn't always turn out as we planned but sometimes those detours can often lead to something even better.
I have to admit that looking at Ms. Herrera's pieces, I wasn't sure I totally "got" them. They are primarily geometric shapes in solid bold colors on solid bold-colored backgrounds. The interviewer for that New York Times article asked her about how some liken the triangle to a sensual female shape in her piece "Blanco y Verde." The work has a white background with a green triangle as the focal point. Her reply? "Look, to me it was white, beautiful white, and then the white was shrieking for the green, and the little triangle created a force field. People see very sexy things – dirty minds! – but to me sex is sex, and triangles are triangles."
In other words, sometimes a triangle is just a triangle.
Gotta love them old timers, they say what they think.
Happy Columbus Day Everyone.
Thank you for visiting Free Vintage Art. Don't forget to Pin your favorite images!