Wood Table
Considering that the first vintage home furnishings image to be added to FreeVintageArt.com was a chair, it seems only fitting that the second should be a table to go with it. I will, however, leave it up to you to match the proportions and background colors.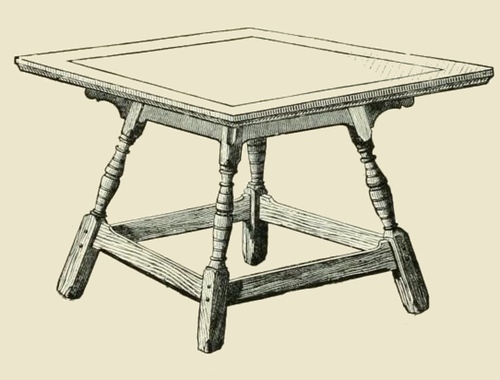 This chair drawing comes from a book published in 1870 entitled Principles of Decorative Design. Along with a number of patterns and designs, the book featured a number of table and chairs and discussed the different styles of construction. The author described the table as one "we occasionally meet with." He saw "no objection to the legs leaning inwards at the top; indeed we have here a picturesque and useful table of legitimate formation."
'Legitimate formation'? Phew. Glad folks don't talk that way anymore, sounds kinda silly and pompous. Personally, I see this as a somewhat straightforward square table with four nicely turned legs and four cross braces. Seems like it would make a nice kitchen table or side table, depending upon how large it is. Irregardless, of what it was used for in 1870, this vintage wood table drawing can be used however you wish as it is in the public domain.
Thank you for visiting Free Vintage Art. Don't forget to Pin your favorite images!