Red Fish Drawing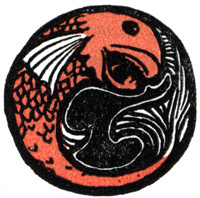 This red fish drawing is what I think of as one-offs. They are great illustrations and drawings but they were the only one to be found in that book or source. Or, they were only one or two drawings that I wanted to include here on FreeVintageArt.com or on my other free vintage images website – ReusableArt.com.
It is from a book published in 1914 that included the personal recollections and memories of the author. Sadly, he didn't credit the illustrator. This red fish accompanied the author's version of Yo-Ho-Ho and a Bottle of Rum. I think it's pretty cool. It's circular and features a red and white fish on a black background. It reminds me of a colorized rubber stamp image. I wish it was bigger. However, I still think the artist's use of color still would lend drama to your project.
Thank you for visiting Free Vintage Art. Don't forget to Pin your favorite images!