Waratah Flower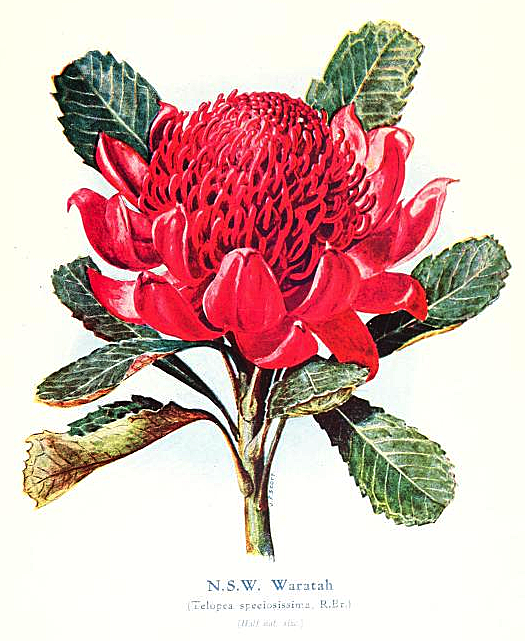 The Waratah flower is native to the southeastern parts of Australia. This vintage flower drawing shows the Telopea Speciosissima species which is used as the New South Wales state emblem.
These large and dramatic, bright red flowers are from five species of large shrubs or small trees.
This large drawing of a waratah flower is from a 1915 book by Richard Thomas Baker (1854-1941). He didn't identify the illustrator but there is a visible signature – I think it is JF Scott but it is a little hard to read. It might be the work of James Fraser Scott (1877-1932).
This flower image is so very striking with bold reds and pinks making up the flower head which is actually comprised of numerous small flowers. This drawing also shows the serrated leaves and their interesting coloring. The entire image is dramatic and would make a colorful splash on any project.
The publication date puts this work clearly in the public domain in the United States. If the illustrator was Scott, his date of death would put this waratah flower drawing in the public domain too.
Thank you for visiting Free Vintage Art. Don't forget to Pin your favorite images!